OLIVER commits to Ad Net Zero amidst climate crisis
World-leading in-house agency provider OLIVER has committed to achieving its net zero target globally by 2030, if not sooner via its dedicated climate team.
OLIVER, the only company in the world to exclusively design, build and run in-house agencies and marketing ecosystems for brands, has joined Ad Net Zero. The partnership will help tackle the climate crisis caused by human activities resulting in CO2e emissions.
Along with parent company the Inside Ideas Group (also known as IIG, a 4000-person-strong collective comprising marketing specialists OLIVER, Dare, Adjust Your Set and Aylesworth Fleming), OLIVER will reach carbon neutrality in the UK by 2030 ~ as is a requirement of Ad Net Zero. However, the business has pledged to take an international view from the start, intending to achieve carbon neutrality globally in the same time-frame. The UK plan will be super-charged by a team of Ad Net Zero Ambassadors.
As part of OLIVER and IIG's ambition, new policies will be embedded, a climate-conscious supply chain will be established and best practices will be shared within the 500 client brands and 250+ marketing ecosystems that it works with.
Simon Martin, founder and CEO of OLIVER and IIG, said: "There's no brief more important than stopping our climate emergency. It's why we want to put the environment at the centre of our business and significantly reduce the carbon footprint of marketing and advertising.
"Despite already being a carbon-aware company, we're growing rapidly and therefore have a responsibility to raise standards on a global scale. We're asking ourselves, how can we work with brands in a totally carbon-neutral way? And we're committed to finding the answers so that we can become better for our clients, better for the future of our industry and better for the planet."
Sharon Whale, CEO of Global Markets and Operations, added: "Applying the same innovative thinking that started our business 17 years ago, we want to take Ad Net Zero's outstanding standards and bake them into our business. We're looking forward to sharing our plans and learnings with the wider community so that, in the spirit of collective action, we all reach a carbon neutral status fast and effectively." OLIVER and IIG will roll-out an immediate six-month action to reduce working practices that harm the environment. The Ad Net Zero Ambassador team will be led by the company's Group Account Director Lucy Usher and Managing Director Chris Woodward.
The initial plan includes:
Operations: curtailing carbon emissions, principally by reducing travel, fossil energy use and waste.
Production: measuring and reducing our impact with support from AdGreen, the initiative that unites advertisers to eliminate the negative impacts of production.
Media choice: working with the IPA Media Futures Group Climate Charter and clients to develop low carbon media plans.
Awards and events: build sustainability criteria into awards, and plan events to minimise carbon footprints.
Advertising's positive influence: harness the power of advertising to promote more sustainable consumer choices and behaviours.
In 2020, OLIVER was named Campaign's Digital Network of the Year (EMEA) and AdWeek's Fastest Growing Large Agency (US, 2020 and 20201). It was also named in The Drum's New Years Honors list for 'helping brands get their in-housing in order'. Having grown 35% during the pandemic, it is expected to continue its exponential global growth.
A recent report by the Advertising Association found that the total UK agency operational CO2e emissions exceeds 84,000 tonnes a year. Ad Net Zero – founded by AA, IPA and ISBA – was created to get advertisers responding to the climate crisis. It is backed by brands including Sky, Unilever, The Guardian, DMA, PRCA, The Marketing Society and The Marketing Academy. Read more about Ad Net Zero here, and about AdGreen here.
How brands can build customer trust
Understanding the impact of marketing activity on the environment, and how to shift today's business models to be future fit and ready for a net zero world.
The climate crisis is one of the defining challenges currently facing humanity.
Every day, people are becoming more informed about their personal impact on the planet – from what they eat and drink, to how they travel, the clothes they wear, how they maintain their homes, and
the lifestyles they lead.
The demand for transparency, authenticity, and honesty from brands has never been higher, fueled by a growing expectation to work for and buy from those that are making a positive impact on society.
While brands are aware of the role they need to play (and have been since the early 1990s), people have little faith that brands will deliver on their promise. Research from GWI found that 62% of consumers are only a little trusting that brands will stick to their environmental claims or pledges, while 22% don't trust brands at all.
Building customer trust around sustainability isn't easy, and we believe there are two major barriers to success:
Getting going with your sustainable strategy (taking the next step, rather than focusing on the




finish line)

Becoming a trusted brand by consistently – and genuinely – balancing people, planet and commercials equally
To begin solving this, using data from Deloitte, Kantar and Euromonitor and other leading news sources, we have developed our four-stage approach to building trust as a sustainable marketer:
Understanding what sustainable marketing really means

Understanding where brands and marketers fit in addressing the climate crisis

Learning from brands who have already successfully embedded sustainability into their marketing, building trust with consumers in the process

Gaining the tools and knowledge to implement real change in sustainable practices and growing consumer trust in the process
Sustainable marketing is the promotion of socially and ethically responsible products and / or services.
Although the two are now interchangeably used in the world of advertising, with both insinuating environmental considerations.
Green marketing is more specific to environmentally conscious products or services while sustainable marketing can be utilized by all brands when it comes to addressing their commitment to more ethical, sustainable practices.
With an authentic and demonstratable commitment to sustainability as a key driving factor when it comes to consumers and which brands they choose to buy in today's world, it's important brands are honest and consistent in their efforts to be and do better.
Those who simply try to market themselves as sustainable, but don't have the foundation of ethical and environmentally considered practices to back up their claims, run the risk of being accused of 'greenwashing'.
This can have a detrimental impact on public perception and ultimately market share, with consumers not afraid to shout about the disingenuous claims on social media, often gathering mass-scale momentum and causing irrevocable damage to a brand's reputation.
Green marketing has a focus on the sustainable and environmental benefits of a product and / or service.
Furthermore, there can often be legal implications from governing bodies who authenticate and investigate brand claims when they suspect them to be untrue
or misleading.
Recently, regulators have been cracking down on greenwashing, with the Competition and Markets Authority (CMA) – the UK government regulatory body – publishing guidance on environmental and sustainability claims through its 'Green Claims Code', emphasizing six principles based on existing consumer law.
Their research found that 40% of green claims made online could be misleading, due to claims being false, exaggerated, or deceptive, hinting towards thousands of businesses breaking the law.

CMA found 40% of green claims made online could be misleading, hinting towards thousands of businesses breaking the law.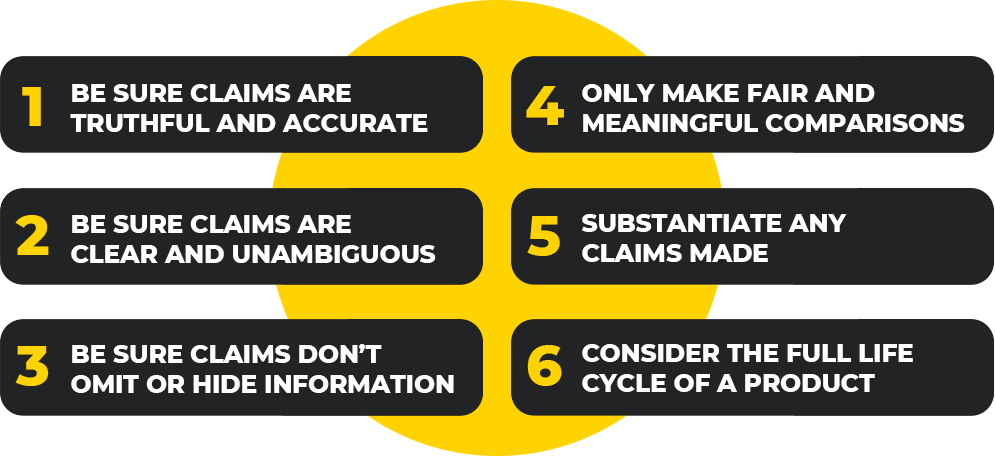 Fast fashion brands have a reputation for greenwashing with the introduction of 'sustainable' collections despite little to no evidence backing up their claims.
For example, clothing 'made from recycled fibers' have been found to only feature around 16% to 20% recycled fibers.
The likes of Zara, Pretty Little Thing, and Boohoo have a history of criticism over their ethical practices when it comes to fair pay and safe working conditions, alongside the poor quality of their clothes as they have
a much shorter lifespan than other more well-made products, resulting in much higher levels of clothing being sentto landfill.
Additionally, many of the garmentsare made out of synthetic materials such as polyester, which sheds harmful microplastics when washed and doesn't biodegrade.
At the other end of the spectrum, Patagonia's owner and founder announced he was donating the fashion brand to a charitable trust, citing Earth as their 'only stakeholder' and donating all profits fighting climate change – a significant and authentic commitment to sustainability which sparked huge applause from the fashion industry and wider business world, while further highlighting fast fashion's lackluster efforts.
In a world where consumers are looking to brands to proactively do more to help the planet, even offering to pay higher prices to accommodate more eco-friendly practices, brands have a responsibility to their customers, stakeholders, and the future of Earth to do so honestly.