Client relationship overview
OLIVER has been working with Bank of Ireland since 2014 as a trusted creative partner delivering inspiring brand touchpoints for their customers, employees and communities.
Today, we operate as the Bank's in-house creative agency providing integrated branding, digital and production services delivered by a team of experts in digital design, traditional advertising, video production, social media content and production work.
Fraud with Baz Ashmawy
The challenge of making financial fraud an approachable and relatable subject matter was at the heart of the creative thinking behind our nationwide campaign fronted by TV personality Baz Ashmawy. Delivered across TV, Radio and Social, this campaign got the nation talking about 'Fraud' in a way that they never did before. In addition to the main creative, Oliver have produced hundreds of assets that leveraged the original above the line campaign  to ensure that two years later the conversation is still growing in relevance.
Coffee on the House with Dermot Bannon
We were tasked to produce a series of engaging social media videos that would leverage the Bank's existing sponsorships of Room to Improve and Super Small Spaces with Dermot Bannon on RTE. In response we designed a social mini-series with Dermot Bannon themed ''Coffee on the house'' in which industry experts visited Dermot's pop-up Coffee Truck and explained everything to do with buying a home. Teased out on social media over a number of weeks, the campaign smashed engagement and reach targets while delivering positive brand association.
Never stop beginning
Not all stories of Irish business success make the front page of the Irish Times and in the midst of a global pandemic we took on the challenge of finding a way to tell the inspiring stories of small family-own businesses that had evolved through the years to grow and secure their future in an ever-changing marketplace . Through a series of short-format video's that were designed to reach a digital audience, we told the stories of businesses from Dingle to Clare to Meath who all 'Never Stop Beginning'.
Begin Together
Great communities and thriving towns don't just happen, they need tireless commitment and active support, now more than ever.  Through OOH, video content, social media campaigns and digital promotions our 2021 Begin Together campaign told the stories of a range of community groups around the country who had benefited from the Bank of Ireland's Begin Together fund.
Hear the story of Clonaslee Basketball Club to understand how Tomorrow will be better if we begin together.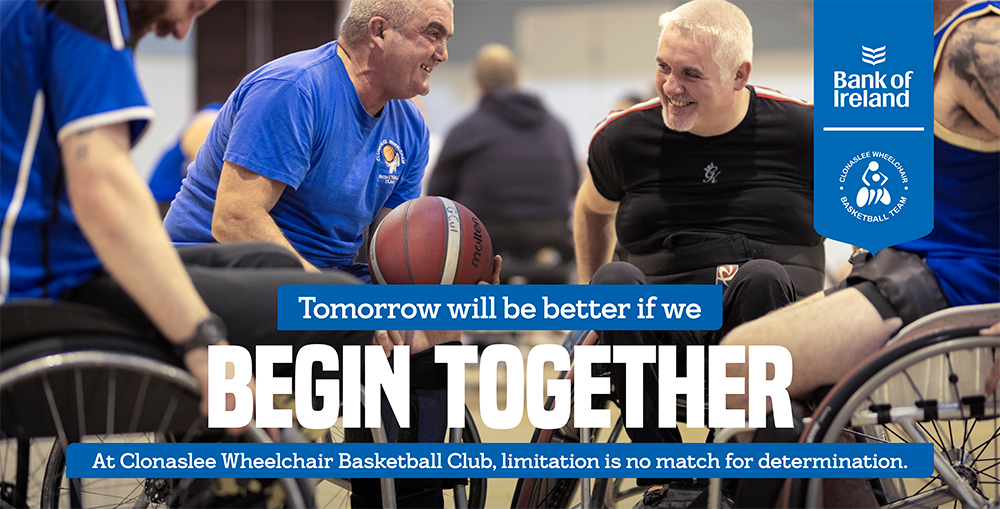 Our Clients